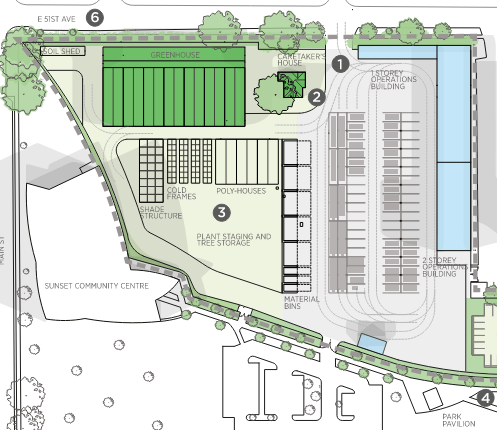 Sunset Nursery and Operations Yard
Location Vancouver, BC
Status Pre-Design
Architect Carscadden Stokes McDonald Architects Inc
Our Roles LEED and Passive House Project Management, Whole Building Life Cycle Assessment
The City of Vancouver is building a number of new facilities in the Sunset Nursery and Operations Yard. There will be a new two-storey Operations Centre Building of approximately 13,754 square feet. In addition, there will also be operations storage bays, an unheated storage building, greenhouse, headhouse, associated small supporting structures, and potentially a new District Energy System.
The project is targeting both Passive House and LEED Gold certifications. In addition, major emphasis is put on embodied carbon reduction. The whole-building life-cycle assessment (LCA) study will identify opportunities to reduce embodied carbon emissions by 40%.
Recollective is providing LEED Project Management, Passive House Project Management, and the LCA analysis for this project.