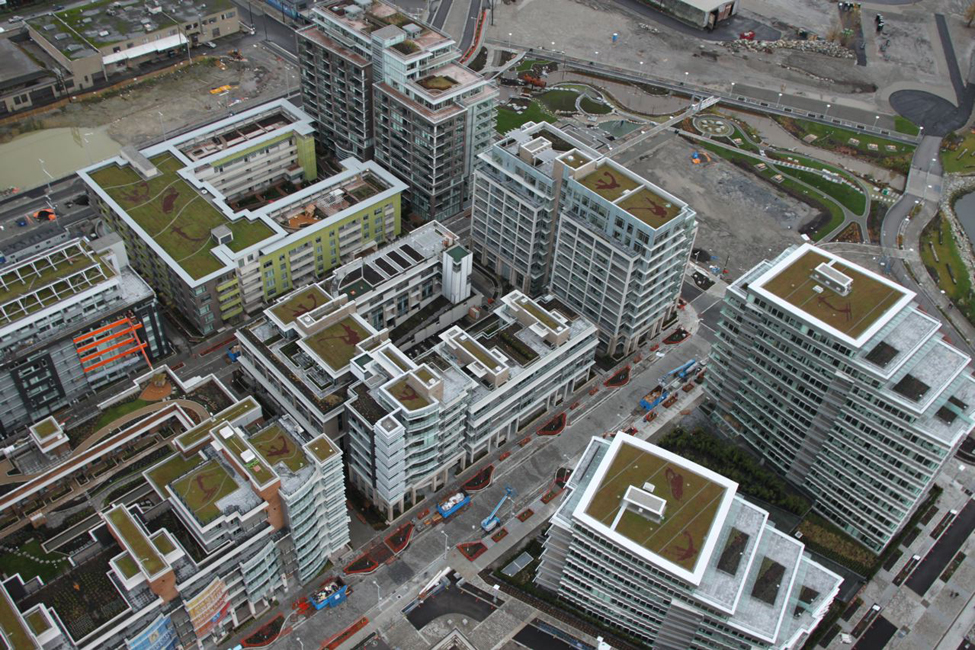 The Olympic Village (aka Millenium Water) is one of the greenest communities in the world, making Vancouver a leader in sustainable development. In keeping with Vancouver's Greenest City targets, the Olympic Village uses innovative energy efficiency and sustainability systems like solar heating and green roofs. Located in Southeast False Creek, the Olympic Village was built for the 2010 Winter Olympic Games, to house athletes and Olympic officials coming from across the world. After the Olympics, the Olympic accommodation became residential housing. The development aligns with the City's goals, addressing environmental, economic, and social issues. The Olympic Village is a mixed-use community, with approximately 1,100 residential units, area parks, and a growing number of retail and service outlets.
The site is about seven hectares in size and consists of over 20 buildings, with approximately 1.2 million square feet of multi-unit residential and mixed-use development. All SEFC buildings have achieved LEED-NC Gold certification, with the Community Centre and the Net-zero Energy Senior's Housing project achieving LEED Platinum.
Recollective was responsible for providing green building consulting to the design team to help determine how the project's sustainability goals could be met, and for the overall LEED project management for SEFC. We were also responsible for providing architectural design support for meeting a net-zero energy goal for the senior's housing project, designed by GBL Architects. We worked with the City of Vancouver and the developer to both interpret the City's Green Building Strategy, and to determine how compliance will be documented for the permitting process. The system that Recollective collaboratively developed was intended to be the blueprint for the City for other developers of the SEFC lands.
Sustainability Features:
LEED for Neighbourhood Developments (LEED-ND) Platinum certified, 2010
LEED Canada for New Construction & Major Renovations (LEED-NC) Platinum certified (Community Centre and Net Zero Senior's Building); LEED-NC Gold certified for all other buildings, 2010
Neighbourhood Energy Utility: 70% of heating energy derived from renewable source
Green infrastructure: green roofs covering 50% of roof area in the village
Natural stormwater management: bioswales and natural wetlands
High-quality open space: 60% of development
Parking/ refuelling for electric vehicles: 15% of all parking stalls
Housing diversity: 1,100 residential units including 250 affordable housing units and 100 modest market housing units
Community amenities: community centre with 69-space daycare and 560 square meters of commercial and restaurant space
Capacity building: 100 construction jobs for inner-city residents and $750,000 in training
Recollective would like to acknowledge the fact that the original contract for SEFC was held by Thornley BKG Consultants (TBKG), with Recollective and Eco-Integration as sub-consultants. The untimely death of green building superstar Andy Kesteloo of TBKG on January 15, 2007 resulted in the contract being transferred completely to Recollective. Therefore, we would like to share credit for this project with TBKG and Eco-Integration. To honour Andy, the Canada Green Building Council has created a student project award to recognize a student project that demonstrates leadership, innovation, inspiration and a creative vision for the future of sustainable design in the field of green building and communities.
Here's a website dedicated to the story of this development: thechallengeseries.ca
Here's the City of Vancouver's website about it: vancouver.ca/olympicvillage
Vancouver Olympic Village
Location Vancouver, BC
Size 1,200,00 sf
Budget $1,000M
Completion 2010
Developer / Client City of Vancouver / Millennium Development Corporation
Our Roles Sustainability, LEED Consultant, Energy Modeller, Net Zero Architectural Support, and Funding Research
Green Building Certification Status LEED-NC Gold and Platinum certified, LEED-ND Platinum certified