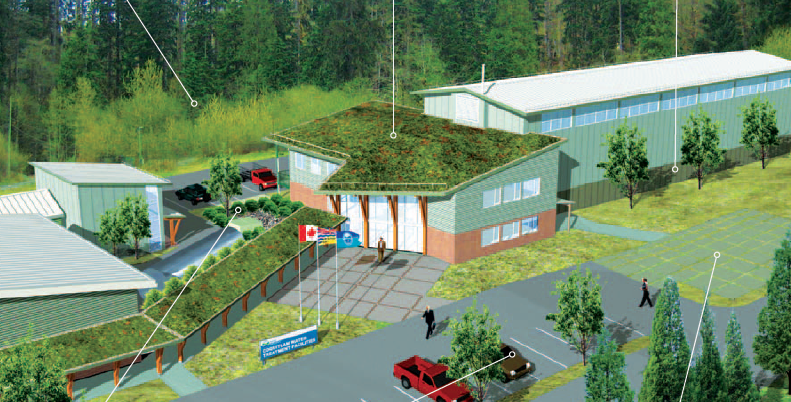 Metro Vancouver, working in cooperation with the City of Coquitlam, completed a major water utility infrastructure project in the Coquitlam watershed to ensure the region's continued supply of high-quality drinking water. The Coquitlam UV Disinfection Project includes:
A new ultraviolet (UV) disinfection plant – to comply with new requirements under Health Canada's Drinking Water Quality
Associated underground valve chambers – which will regulate the flow of water through surrounding water mains
An operations and maintenance centre – which will house a control room, offices, meeting rooms and a water testing laboratory
Upgrades to the existing ozonation facility – which will improve the efficiency of the treatment process.
The project is comprised of two main parts: an ultraviolet disinfection building (UV building) and an operations and maintenance centre (OMC building). The UV building includes an ultraviolet disinfection process room and annexed rooms/spaces such as mechanical and electrical rooms, and its total floor area is approximately 1,000 m2. The OMC building is a 2-storey multi-use building including office spaces, lunch room, gym, lab, etc., and its total floor area is approximately 600 m2. The project is targeting LEED Silver certification.
Recollective was instrumental in facilitating an Energy Strategy workshop, where energy modelling results (by Recollective) were used to inform design decisions and meet energy efficiency goals.
Coquitlam Water Treatment UV Disinfection Facility
Location Coquitlam, BC
Size 1,600 sq m
Budget $110M
Completion 2014
Developer / Client Metro Vancouver
Architect CJP Architects
Our Roles Energy Modelling and IDP Workshop Facilitation
Green Building Certification Status LEED-NC registered (Silver target)