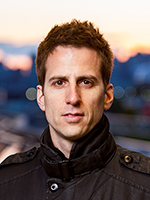 Sébastien has 13 years of experience in the building design field and has played a leading role on Green Building projects. His comprehensive perspective on advanced Green Building practices was acquired through:
His role as Project Architect and Senior Research Advisor at Busby Perkins+Will where he was an integral member of design teams on various green buildings, using the Integrated Design Process and sustainable design charrettes, including carbon-neutral, LEED-Platinum and Living Building Challenge-pursuing projects, such as the Centre for Interactive Research on Sustainability (CIRS) and Dockside Green;
His role as Sustainability Consultant at Halsall managing the inclusion of sustainable design strategies and the achievement of energy performance targets on existing building retrofit as well as new construction projects; and
His various roles with the Canada Green Building Council (CaGBC) as Chair of the LEED-Canada Technical Advisory Group (TAG) on Materials, member of the LEED Steering Committee, member of LEED Faculty, and one of three LEED Review Team Leaders.
Sébastien has extensive experience with Green Building materials and was nominated to act as Chair for the CaGBC's Technical Advisory Group on Materials in 2010. He oversaw Busby Perkins+Will's research department and has gained recognition for his leading-edge life-cycle assessments that evaluate the environmental impacts of materials and construction methods to inform building design. He has produced various feasibility studies on the implementation of sustainable design strategies and has written a document aimed at educating manufac-turers and workers of the wood industry on LEED.
Sébastien has audited the performance of over 65 LEED buildings on behalf of the CaGBC including Canada's first LEED-CI and LEED-CS projects. He is one of four instructors in Canada teaching the advanced course on LEED documentation.
Sébastien's company that he contracts to Recollective with is Sébastien Garon Architecture + Design.