THIS JOB POSTING IS CURRENTLY CLOSED AS WE REVIEW APPLICATIONS.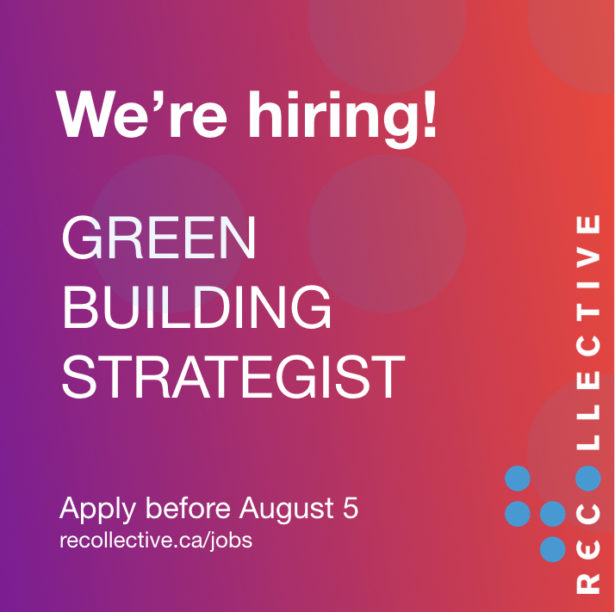 We have the following job posting available:
Green Building Strategist
The primary focus of this position is to manage Multi-Unit Residential, Commercial, Institutional and Industrial projects that have identified sustainability targets such as StepCode, LEED and Passive House.
Essential Functions:
Manage multiple green building projects and provide clients and project teams with sustainable design advice and strategies to cost-effectively achieve various green building goals
Work with project teams to manage and complete StepCode, LEED and Passive House project documentation and submissions
Manage scope and budget of projects in charge of
Prepare draft reports and presentations that communicate green building performance results
Support business development team with feedback on proposals and contract changes
Research green building strategies
Liaise with green building certification bodies (GBCI, PHI)
Support senior staff in facilitating design workshops and Integrated Design Process
Support in the development and delivery of education and training programs for building professionals
Assist with various aspects of operations as needed.
Education, Training and Experience:
Studied in one of the following fields: architecture, mechanical/electrical/civil engineering, planning, landscape architecture, construction management, building science, development management, computer science, or other related education
LEED GA/AP and/or CPHC/CPHD credentials
Understanding and some experience with LEED / Passive House related projects
Project management experience related to the green building industry or construction industry
Experience managing scopes and budgets
Experience with MS Office.
Job Expectations:
Excellent written and verbal communication skills, strong attention to detail and ability to organize/ prioritize, and multi-task
Excellent project management skills (quality work on time and on budget)
Prioritizes tasks appropriately
Proficiency in chairing meetings and taking minutes
Able to work independently with little supervision
Able to create and prepare green building documentation
Keeping abreast of building industry trends, including green building technologies and strategies
Commitment to environmental responsibility and social equity.